Twitter accounts may be created equal, but they certainly don't stay that way. There are some accounts that can set the conversation, and send waves throughout the Twitter-verse. Today we're looking at the demographics behind these accounts.
The influencers of Twitter
We use Brandwatch Audiences to find the 50 most influential people on Twitter.
If you want to get the full details and list, go and read the full blog post now. Today's bulog isn't about who specifically made the list this year. Instead we're looking at the kinds of people who make it, and how that's changed compared to last year's rankings.
To start, let's look at occupations. For the below chart we assigned entries a single occupation based on what first brought them to fame. So in the case of Jennifer Lopez, she's listed as a musician rather than an actor.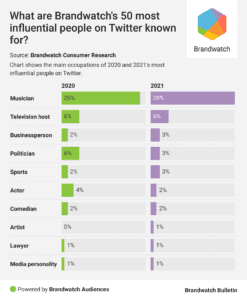 Just like last year, musicians are the most common group found on our list, with them taking up 28% of entries in 2021. Pop stars are obviously some of the world's biggest celebrities and, considering their enthusiastic fanbases, we're not shocked they're so influential.
Beyond that, there's no particularly large group. But there was one interesting change. The proportion of politician entries dropped by 50%. What happened here? Well, for one, Donald Trump was permanently suspended from Twitter, so he's out. But we also saw people like Alexandria Ocasio-Cortez drop off. This can likely be explained by 2020 seeing the US Presidential elections, drawing extra attention to the posts of politicians last year.
Now let's take a look at gender. Although the gap is not as large as it was in 2019, men still have more entries than women. But it's not all about the number. Where they place in our list is important too. This year, women are back to having a better average ranking (24th) compared to the men's (27th). That means that while men have more spots, women are more likely to be more influential within the top 50 according to our analysis.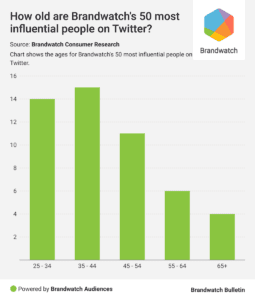 Let's finish off by bringing the generation wars into it all.There's a big spread in age in our list, with the youngest being Harry Styles and Justin Bieber at 27, and the oldest being Hilary Clinton at 74. Most people on our list tend to sit between the two, with the average age of our entries being 43.
Here we see the oldest group has the best average ranking. There are only four people over 65 on the list, but considering that group includes Hilary Clinton, Narenda Modi, Oprah Winfrey, and Bill Gates, it's not a shock they rank well. Their average would likely have been even better had Trump not been suspended from Twitter.
Want to rank well on next year's list? We recommend being over 65, incredibly famous, and incredibly rich. Better get to work now.