In early December, I was on my regular monthly catch up call with a long term client, John Leyden, the Founder and CEO of Carbon Accountancy Limited. 
We were just generally catching up as usual, talking about incoming enquiries, return on investment on current marketing activities, business development plans for the new year,  staff welfare during Covid and more, when he mentioned in passing that he had just ordered Christmas hampers for staff and needed a high resolution logo for the branded labels. He hadn't mentioned this before so I asked more about his plans, just generally interested, as obviously I know his 18 staff pretty well, having worked with John for over 10 years now. The more he told me, the more intrigued I became. John has always prided himself on not only providing exceptional client service (which he delivers in spades) but also in delivering exceptional staff welfare – take a look at this Charter. But this time the effort he had gone to was gobsmacking. Without any help from Caspia!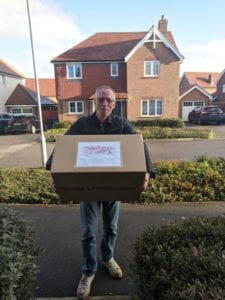 As part of his plans, John invented a ""Carbon Christmas Department" email address which had been sending weekly emails about plans for the company's online Christmas party on Friday December 18th. One of the emails indicated that there would be a 'secret delivery' to each staff member's home on Tuesday 15th December. What they didn't know was that surprise Christmas mission to deliver personalised hampers to all 18 of his staff, taking 16 hours to complete, was being undertaken by John himself.
This was too good a story to just keep to ourselves, so our Caspia's PR team at Ambition PR got to work. And in getting some press coverage also generated some usefdul inbound SEO and social media links for Carbon – double result!
You can read the full story by clicking on the link below.