We all know that being part of a community feels like it's a good thing. And we've found what we think is a good one for clients and marketers alike, whether you are a NED or an Exec or a Consultant. It's called Guild and we thought many of our readers might be interested to find out more.
Have you stopped to think of the really tangible benefits you gain from participating in communities?
Very few people dispute that joining a community is usually good for you, and good for the community as a whole. But often we focus on the greater good – supporting others, furthering a good cause, or the feeling of satisfaction you get from being helpful. These are what community professionals call "intrinsic motivators". They're essential for any community to thrive. But it can be too easy to think community is solely about those "warm fuzzy" feelings.
In fact there are many more tangible benefits for people who join groups, communities and networks on Guild.  And the more active and helpful you are in a community, the more you'll benefit.
Here are a few examples of the benefits of joining communities on Guild:
Grow your professional network
Social media platforms have volume, but that comes packaged with a lot of noise. More intimate communities attract C-suite and senior leaders because they escape the sales spam that accompanies social media platforms like LinkedIn.
Professional communities on Guild can help you build deeper relationships with people who can help your career – and also help build relationships that can land that deal, important introduction, partnership, client, interview etc.
Get practical and confidential advice in a safe space
"Every day is a school day" as they say, and asking for help is an opportunity to learn.
Turning to a community can get you helpful and knowledgable answers fast. That's why communities make great sounding boards for ideas and challenges.
Community members are often motivated to build their reputation. There's more time to think and to come up with a quality answer. If you're not battling a social media algorithm the right people are more likely to see your question at the right time.
It can be easier to ask about sensitive topics like inclusion, wellbeing, conflict, finance and sustainability initiatives out of the spotlight of social media.
Benchmark your knowledge with peers
Joining a community can help you understand where you are on your career path. If others are giving similar answers or you're asking the same questions, you'll feel more confident in your own knowledge and abilities.
What if you find that your answers are completely different? Either you've got a valuable alternative point of view, or you've got something to learn. Whatever the answer, you're surrounded by peers who can help you. Even if you choose to simply listen (not lurk) in a group or community, you can still learn a lot from your peers.
Find better jobs, faster
Many communities on Guild allow members to share jobs. For example Guild communities like NED and Board Advisor Network and Business of Sport offer dedicated jobs threads.
Managers looking to fill a role will often post in a community where they know there are good candidates. In fact, these jobs may even be filled before they make it to an agency, publication or jobs board. Everyone you help in a community might have an opportunity for you one day, or may recommend you to someone else.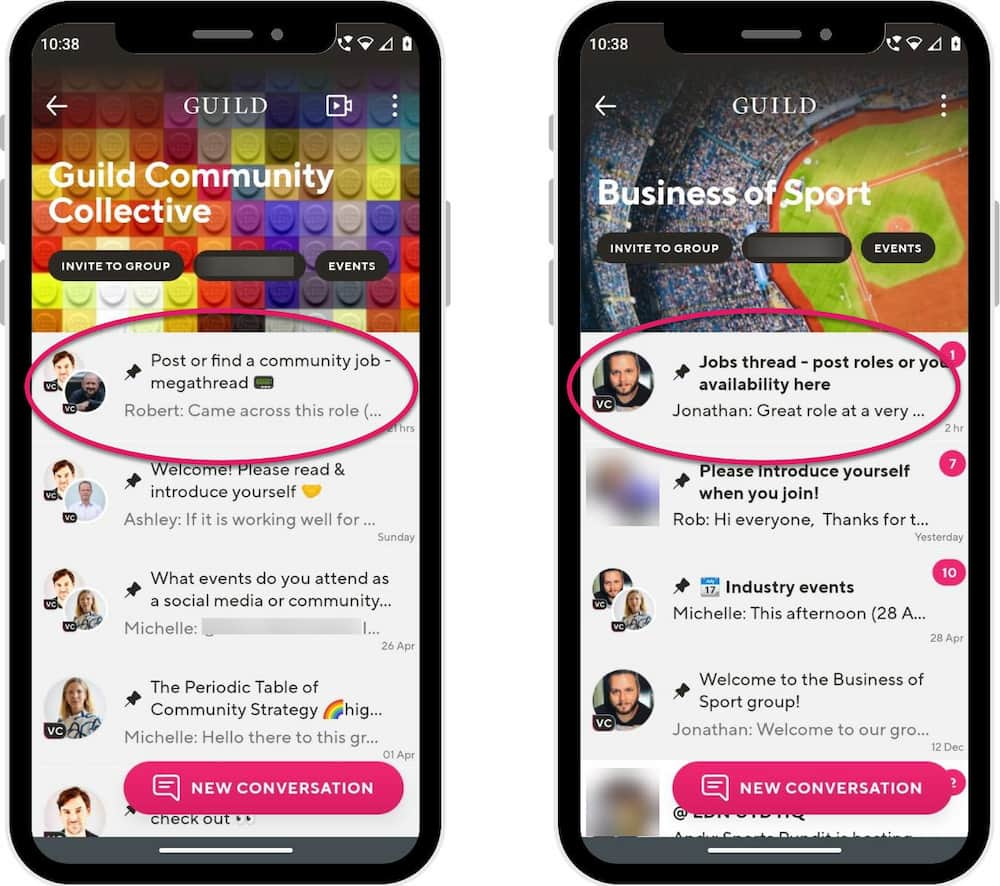 Find quality candidates for your job roles, faster
What about when you're the one recruiting? Candidates in a community are effectively pre-qualified. You can get to know them in a way that you can't through a CV and an interview.
And often community members can offer personal recommendations for people who are suitable for your job vacancies. If a community you want to recruit in doesn't have a jobs board or thread, it's always worth asking. The community manager or host will want the community to help its members and they'll usually be open to relevant jobs and opportunities being posted.
Make better choices – finding suppliers, technology, partners, consultants, advisors, agencies and more
If you're trying to decide on a technology, looking for a new supplier, agency, advisor or consultant or just need a second opinion, turning to your community can save you time and money.
You may not even need to ask a question – searching through past conversations could turn up the answer you need. Communities like CREO for event professionals, Legal Pioneers or Renewd Network will regularly discuss technology, venues, suppliers and more.
Questions like these are likely to be welcomed and answered and many Guild members regard the peer approved recommendations that they get from communities are invaluable.
Find people who share your challenges or circumstances
Connecting with people who empathise and understand your position can make a huge difference to your business, your career and achieving your goals.
There are many communities on Guild for people working to achieve the UN's Global Goals, including communities working towards affordable energy, quality education, climate action, sustainability and gender equality.
For example, on Guild there are supportive communities fighting racism like the Anti-Racism Innovation Community and the Race Equality Matters Community Communities like She Has No Limits and She Is Fierce bring professional women together to share support and advice.
We find neurodivergent individuals feel especially welcomed and supported.
Loneliness and lack of connection can have a massive impact on wellbeing and health. They can also have an economic impact – absence, staff turnover and productivity can all be negatively impacted by loneliness. Simply joining a community can extend your personal and professional connections – and improve your sense of connectedness to others.
Kick start your career
Many professional communities are hugely supportive of newcomers to an industry.
Many communities on Guild post internship and apprentice opportunities in some of the most exciting and supportive workplaces for those who are looking to kick start their careers.
Mentoring is an effective way to progress your own career and people are often flattered to be asked for help or recommendations. The pandemic and lockdowns in 2020-2022 saw a number of professional support groups start up including Design Community Hub supporting newcomers to the design industry, and CREO which supported event organisers faced with conference calendar chaos.
Take a step up in your career
Communities can also support people who are looking to take a step up in their careers.
As well as the possibility of finding that next dream role in a community or group you've joined, you might want to become an advisor, trustee or non executive director. NED and Board Advisor Network is a community of hundreds of non-execs and those who want to move in to board/trustee roles, exchanging advice and experiences. It's also a community where those types of opportunities are posted.
Stay up to date with what's going on in your industry
We all have great intentions about keeping informed. We'll read the trade media. We'll follow industry experts on social media. We'll plough through that newsletter backlog.
But the most important topics will inevitably bubble up first in communities.
If your peers are talking about it, you need to know about it. You'll often get knowledgeable and polite opposing points of view and evidence in a professional community. If you care about nuance and reaching a balanced conclusion about issues and contentious topics, community peers can be the best source.
Expand your professional interests
Professional success isn't all about your industry knowledge and contacts. It's more important than ever to understand the bigger picture for our businesses and organisations.
There are many communities on Guild and generous hosts that welcome non-specialists/practitioners who want to learn more about a specific industry, profession, specialism or topic.
Whether it's community management, sustainability, inclusion, digital marketing, law, HR, product management or PR there's a host of discoverable communities and groups on Guild that could be a source of education and support for you.
Build your reputation as an expert
Many of us want to build a personal brand or generate awareness, coverage or links to our businesses.
Being active in communities can lead to all kinds of opportunities. Community Created Content is a common outcome of professional communities. You'll often get a link and / or bio included as well as a credit.
Examples on Guild include the CREO manual for events organisers, the Community Trends 2022 report and our annual International Women's Day insights.
As people start to recognise you, you're more likely to get requests to contribute to articles, reports and other resources. And don't forget, there are lots of journalists on Guild looking for experts and insights that they can write about.
Find collaborators and expert comment
If you're musing on content like blog posts or a report, a professional community can be a source of expertise, ideas and quotes – but don't forget to ask and attribute!
You'll often have a good idea of who might respond, and you can identify and approach potential contributors directly. They are likely to be motivated to help you because of your shared community connection.
You're more likely to get considered, quality replies when people have time to think. You could even share a proposed post or report with your community and co-create your content. Your contributors will often share their contribution with their connections and networks. That means you can reach a wider but still very relevant audience.
Offers, opportunities and unexpected benefits
We often see large and small acts of generosity and support in communities on Guild.
Frequently members will share free and spare tickets to events. Authors and educators have offered advanced viewings of courses and books.  Businesses have offered spare software and equipment.  People have offered beta test opportunities for a valuable new service before it launches. Professional designers have offered to review websites and provide tips.
Simply being in the right place at the right time can mean you get access to these kinds of benefits. However, being a good community citizen can put you at the front of the queue if there's competition.
And of course you can return the favour. Sharing your own opportunities with your niche community saves time fielding enquiries.  And at the same time you can cement your personal reputation for generosity and reciprocity with people who really matter to you.
Owning the product, rather than being the product
In our Trends in Community 2022 we identified new community governance and ownership models as a trend in online communities.
These trends can include anything from local communities coming together to buy, build and run local businesses and services, to community tokens and cryptocurrency benefits for creator, gaming and music communities.
The idea is that your contributions and hard work as a community member can become a form of intellectual or financial property of value. Compare this to a social media platform using your contributions to sell advertising or use personal information to help advertisers target you.
However this trend develops, being a member of online communities will help you understand community dynamics and put you at the forefront.